INFORMATION ON LIMITED EDITION PRINTS

Limited Editions
Quality - Jaspal Jandu Photography is committed to total customer satisfaction.
View testimonials from our premium customer base.
Investment - Each edition is strictly limited from 5 to 1000 prints (we have a very select number of private buyers with singular edition runs - please contact us for more information). Accordingly, all the prints become valuable investments over time.
Authenticity - As the edition sells the price of the image appreciates accordingly. When the edition is sold out, we will act as a broker by contacting an existing owner who may consider selling their print. Each image is numbered and signed and comes with its own Certificate of Authenticity.
Printing
Labs - Editions are dispatched in the highest quality mounts and frames. The framing process is handled by the Created for Life (CFL) labs. CFL have been framing high quality prints for over many years and each comes with a complete lifetime guarantee.
Printing - All limited edition prints are printed on FujiFlex material which is the highest quality archival photographic print material available in the world. This glossy print material provides a brilliant surface as well as intense colour saturation. It is the type of material most recommended by galleries and museums.
Mat Boards - We use the highest quality Alpha Rag mats from Bainbridge, which are 100% archival, in three standard colours - Black, White and Cream. We purposely use neutral mat colours so they don't detract from the pictures.
Glazing - All framed prints are finished with optical quality Shinkolite which is one of the highest standards of acrylic for art works and has many advantages over glass. It ships well, has high impact resistance for safety and eliminates 93% of harmful UV rays to provide maximum protection for your prints.
Framing
Frames - Our environmentally friendly timber frames are all made from plantation pine and come in two standard finishes (natural and gold). Our contemporary metal frames (manufactured in anodised aluminium) are also available in various finishes.
Unframed Prints - Please handle your Fujiflex classic with care as even the slightest fingerprint cannot be removed. We strongly recommend using our expert framing service which has years of experience with this particular process. Our total goal is to have your print looking great after decades of viewing - you may receive false economy from others who are not as dedicated.
Mounting
Standard Archival - The prints are mounted onto carefully prepared MDF mounting board, using a pressure sensitive film which is water based for archival stability. This film also acts as a buffer between the mounting board and the print to ensure the archival protection of your print.
Archival Gold - Archival Gold is an innovative new process which provides further protection from dust particles, moisture and any other foreign object that may try to invade your precious print. It allows your print to be displayed in areas of high humidity. Archival Gold will further extend the life of your treasured Limited Edition Print and ensure many additional years of visual pleasure to you and your children and generations beyond.
Instructions and Sizes
Hanging Instructions - A detailed set of hanging & display instructions accompanies each Print.
Cleaning - Each Print also includes a Micro Fibre Cleaning Cloth and a specialised cleaning product. The cloth should be used for dry everyday cleaning. The cleaning product will help to clean and protect the surface from scratching and can be used regularly or as required.
Dimensions - Unless otherwise stated, sizes correspond to the unframed, horizontal width of each Limited Edition Print. Additional mount and frame dimensions are provided below.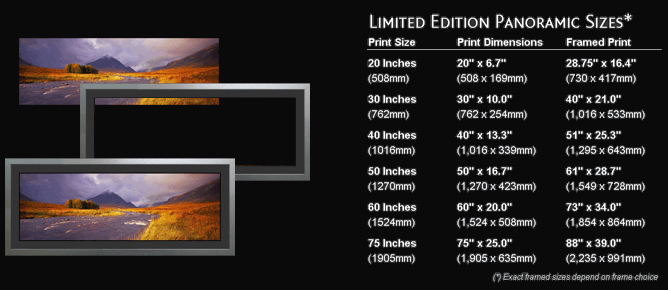 Camera Equipment
Format - The editions are all in panoramic format. Although there's no strict definition of the term 'panoramic', most people generally regards images between 1(high):2(wide) to 1:4 as belonging to the format. Many of the landscape pictures in the galleries are in the preferred 1:3 format.
Cameras - All of the editions are taken with either the Linhof 617 SIII or Canon 1Ds mkII cameras. Fuji Velvia is medium of choice for the Linhof camera. Both cameras offer the ability to output extremely large and detailed final prints.
Web Images - Every effort has been made to accurately represent the vibrant colours of the original transparencies. However, due to differences in computer screens and certain other image format variations, the images here should only to be taken as a guide. Click here for further help and details.
Delivery
Charges - Unless otherwise stated, all of our prices include free worldwide delivery via FedEx
Delivery Time - All editions are individually printed to order and each one is a registered, signed and numbered masterpiece. Every Limited Edition Print has to be inspected so some delays can occur. Prints are delivered 3-6 weeks from the date your order is placed.
Packaging - Every framed print is professionally packed and guaranteed to reach its destination in good order. In the unlikely event that damage does occur in transit, we will have the print collected from you and replaced with a perfect one at no additional charge to you. Our goal is complete customer satisfaction.
Freight - We use Federal Express for international delivery of all prints. The prints are fully insured from our door to yours. When you order a print through the web site, you will receive automatic confirmation of your order. Then, when your print is despatched, we will advise you of the FedEx tracking number for your reference. You should specify a delivery address where someone can sign for the items.
Payment
Payment Methods - The total order cost will be charged to your credit or debit card at the time the order is made. We accept Mastercard, Visa, American Express, Switch, Solo and Visa Electron. All card transactions are encrypted and conducted over secure servers.
Refund Policy - In the unlikely event that we are not able to fulfill your order then you will receive a full refund to your credit or debit card. If there is an error in fulfillment of your order then please contact us and we will correct the error or refund as necessary.
Terms and Conditions